What can a Virtual Farm Tour do for you?
How do departments such as the SA Government Department of Primary Industry and Regions show off their state-of-the-art best practice demonstration farms without the need for producers and investors to travel?
How can farmers and producers experience the cutting edge technology available on these farms without the ability to physically set foot on the property?
The answer can be found in the use of immersive technology.
The right immersive experience would need to be robust enough to work on any device while also providing interactivity and strong user experience motivating producers to want to explore and learn.
The use of an Interactive Virtual Farm Tour provided the best fit for the brief.
A Virtual Farm Tour combines 360° media, like photo and video, with traditional 2D content to create an interactive experience in which users can explore at their own pace. Integrated content such as web pages, photos, videos and text descriptions allows users to deep dive into a particular spot in the tour.
Through the Virtual Farm Tour Immersive technology and Agtech worked hand in hand by providing an engaging tool for producers to virtually visit the PIRSA best practice demonstration farms from the comfort of their homes – and even access live data feeds from technology installed on the properties. Not only can producers learn more about the benefits of different technologies, popups also contain supplier contact information, empowering them to take that next step towards integrating these technologies.
See it for yourself below.
How does a virtual farm tour work? 
360° media such as photos and videos provides an immersive way to make the viewer feel like they are actually on the farm. Tim, our cofounder, grew up on a dairy farm, so when it came to taking photos in the middle of the paddock of cattle he felt right at home. Check out this scene Tim caught that puts you right in the centre of the cattle paddock, showcasing the latest in-paddock cattle weighing technology from Optiweigh.
When creating a virtual tour of such an expansive space, it is not only essential to catch photos that position someone inside the paddock, it is also important to allow users to navigate to different areas of the property quickly and efficiently. Using high-resolution images shot with state of the art drone technology the user can navigate greater distances.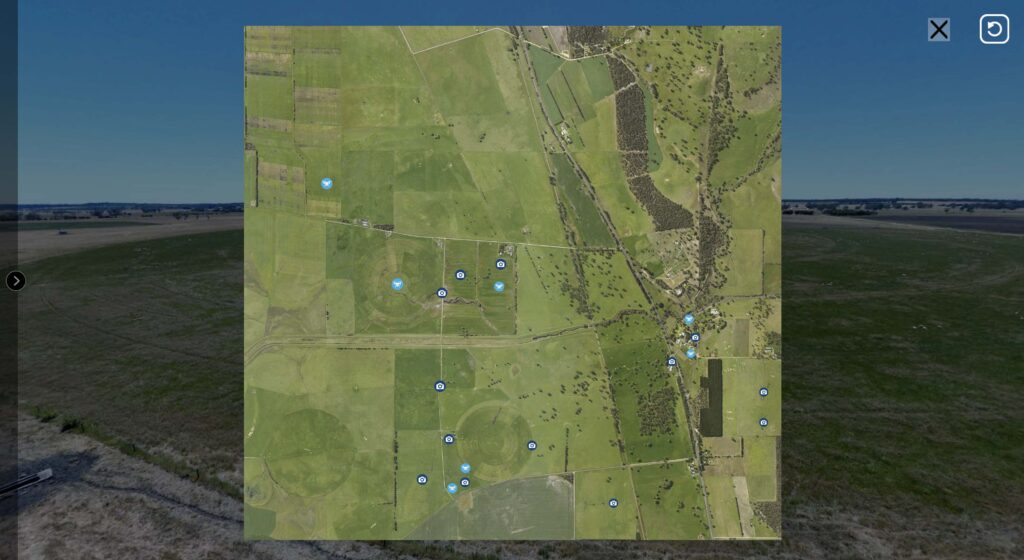 By clicking on Interactive hotspots users can be presented with a wide variety of ways to represent data. Hotspots can allow users to access more information, like photos, videos, PDFs and simple text. Each of these hotspots are completely customisable. Hot spots become particularly powerful when they can then connect producers directly to vendors at a click of a button. 
Take the following example of the Farmo Water Rat water level sensor.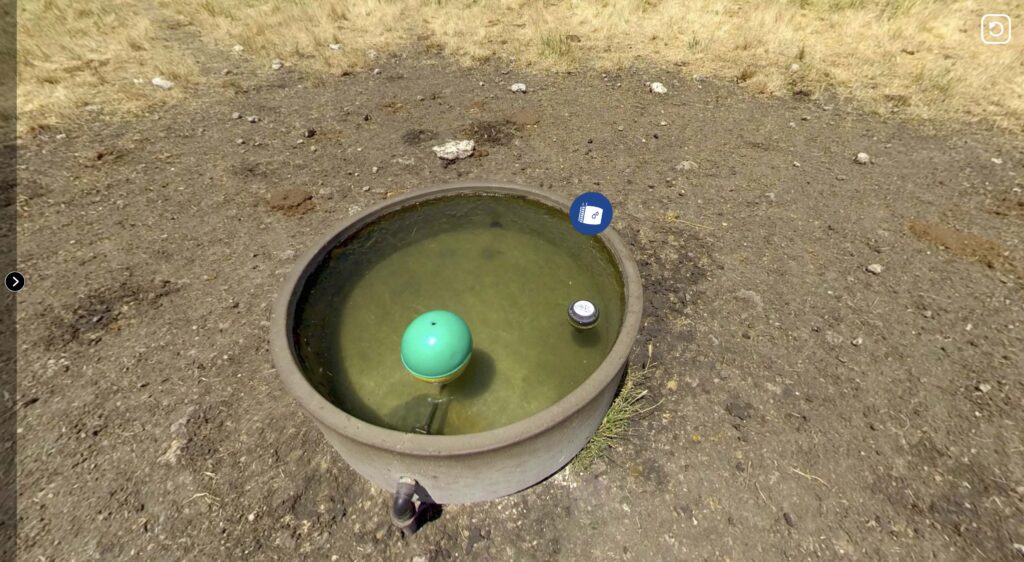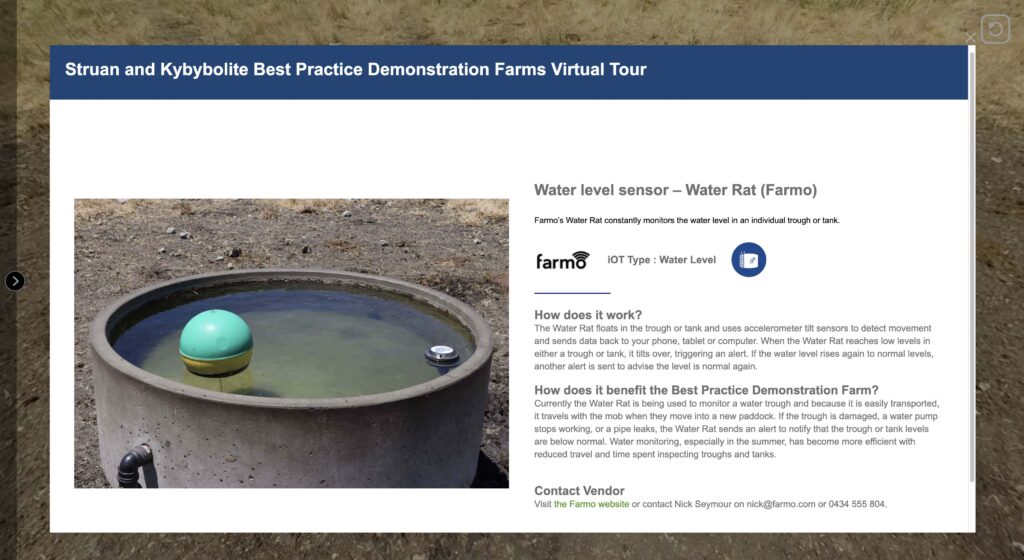 A producer can navigate around the farm, click the customised water level hotspot, opening a popup that shows the technology in action, a description, and the vendor's contact details.
Portal hotspots, detonated by arrows and pulsing circles allow the user to be transported around the farm. What is essential here, like with any immersive technology, locomotion needs to feel natural and smooth so the user can imagine they are travelling through each scene as they would in the real world. The simple use of crossfades and slow zooms provide a more natural navigation path, while the animated arrows encourage the user to explore.
This is by no means a complete picture of just how powerful Virtual Farm tours can be. Whether it is through the use of VR or by employing farm virtual tours, physical distances and the current COVID-19 climate should not stop you inviting someone to your property.
Want to find out more? Get in touch with us by filling out the contact form below or sending us an email to [email protected].